I'm pleased to announce two new appointments, Dr. Weihong Song as Senior Advisor to the President on China, and Julie Wagemakers as Executive Director, Office of the President.
Dr. Weihong Song is the Tier 1 Canada Research Chair in Alzheimer's Disease and Jack Brown and Family Professor in the Department of Psychiatry. He serves as Associate Director of the Institute of Mental Health and Director of the Townsend Family Laboratories. Dr. Song is a world-renown Alzheimer researcher and has made major contribution in defining the mechanism underlying Alzheimer's pathogenesis and its drug development, as well as the link between Down Syndrome and Alzheimer's Disease. Dr. Song is a Fellow of the Canadian Academy of Health Sciences.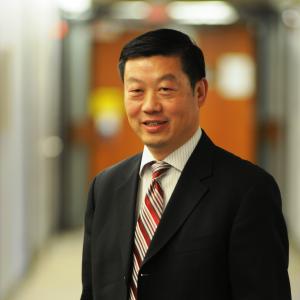 Dr. Song has been actively promoting scientific and academic collaboration between Canada and China since joining UBC in 2001 and play a key role in the establishment of the China-Canada Joint Health Research Initiatives, a funding program jointly managed by the Canadian Institutes of Health Research (CIHR) and the National Natural Science Foundation of China (NSFC) since 2005. For his contribution in forging crucial Canada-China collaborations on research and education, Dr. Song was awarded by the government of China the 2011 "Friendship Award", China's highest honor for foreign experts.
Since January 2009 he has been serving as the Special Advisor to UBC presidents on UBC's academic relations with China and has made significant contributions to UBC's collaborations and partnerships with Chinese government and higher education institutions. It is my great pleasure to appoint Dr. Song as my Senior Advisor and he will closely work with my team and key shareholders in promoting UBC's international strategy and collaboration with China.
A graduate of the University of Manitoba, Julie Wagemakers most recently served as deputy director of the Liu Institute for Global Issues at UBC Vancouver. She joined the Institute in 2002 after serving as Program Manager and Deputy Director of the Great Lakes Commission in Michigan; before that, she worked at the International Institute for Sustainable Development in Winnipeg. Julie has extensive experience in policy development, business and government relations, and creating opportunities for learning and research activities across the University. I'm looking forward to working with both Julie and Weihong.
Julie replaces Herbert Rosengarten, who has served as executive director since 2015. Herbert will be returning to his work on the Legacy Project, which is striving to create an informal history of UBC through videotaped interviews.
With Julie's appointment, the staffing of the President's Office is complete (you can find a complete list of staff, and their roles, here). I would like to thank Herbert, along with Gerald Calderon and Rebecca Armstrong, for their invaluable help in ensuring a smooth transition.
Professor Santa J. Ono
President and Vice-Chancellor