Archives by date
You are browsing the site archives by date.
April 27, 2022
The Canada flag (at Flag Pole Plaza) and the BC, Musqueam and UBC flags (at the North Plaza of the Life Building) on the UBC Vancouver Campus and the Canada, BC, Okanagan Nation Alliance and UBC flags at UBC Okanagan are lowered on Thursday, April 28, 2022, in recognition of the National Day of Mourning, […]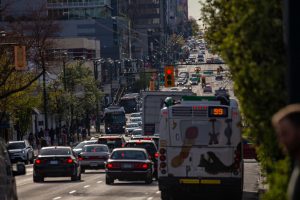 April 25, 2022
On April 22, I had the pleasure of speaking to members of the Mayors' Council on Regional Transportation to show support for the Transport 2050: 10-Year Priorities Plan as well as the extension of SkyTrain to the Vancouver campus. TransLink's proposed plan for the next 10 years includes a range of transit solutions that support […]
April 22, 2022
Dear members of the UBC community, I would like to begin by acknowledging that I am speaking to you from the traditional, ancestral and unceded territory of the Musqueam people. As we near the end of the academic year, I would like to thank everyone for doing their part in keeping our campuses safe and […]
April 20, 2022
In this episode of the Blue & Goldcast, Santa talks to Margaret Moss, the Interim Associate Vice-President, Equity & Inclusion, about her current role and her work with UBC's First Nations House of Learning. Download the transcript here.
April 12, 2022
April 3, 2023 A year ago, UBC President and Vice-Chancellor Santa Ono issued the following statement on BDS. As interim president and vice-chancellor , I would like to take this opportunity to affirm that the university does not support BDS and to reaffirm our commitment to free and respectful debate to advance knowledge and understanding. […]
April 11, 2022
University of Pennsylvania, Philadelphia Many thanks for that generous introduction, Peter – I barely recognized myself! And my thanks to you all for joining me in this important and timely dialogue. I feel very honoured to be invited to the Visiting College Leaders Program here at the University of Pennsylvania – it's always exciting to see […]
April 8, 2022
Dr. Julio Montaner is the director of the British Columbia Center for Excellence in HIV/AIDS, the chair in AIDS research and head of the division of AIDS in the faculty of medicine at the University of British Columbia. He discusses highlights of his distinguished career as one of the world's foremost AIDS/HIV researchers. Download the […]
April 4, 2022
Last week, I provided the following update on UBC's Strategic Plan, Shaping UBC's Next Century, to the Board of Governors: Shaping UBC's Next Century is UBC's roadmap, setting our collective vision, purpose, goals and strategies for the years ahead.  Since the plan's launch in April 2018, I'm pleased to say we have made […]
April 1, 2022
Dear members of the UBC community, I would like to begin by acknowledging that I am speaking to you from the traditional, ancestral and unceded territory of the Musqueam people. Final exams will begin in a few weeks, and I realize that many of you will be anxious about how well you do. But […]