As someone who was new to UBC just over a year ago, President Ono has some first-hand advice for new students on fun things they can learn, do, and experience on both UBC campuses.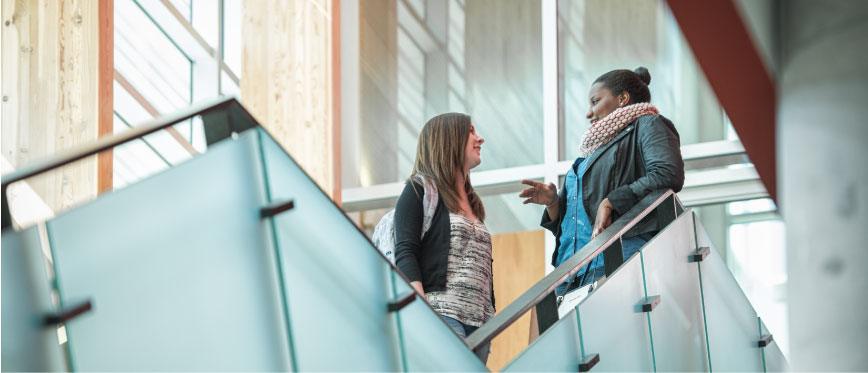 1.
The
UBC Okanagan Library
is a great resource and a comfortable place to study and do research. Make it one of your first stops on campus! More space for studying will be open when The Commons is completed later this year.
2.
The
Hangar Fitness & Wellness Centre
not only has cardio equipment, weight machines and free weight options, it also has amazing views of the campus and nearby hills. The
gymansium
, which features 1,560 square metres of sprung gym floor for volleyball, basketball or badminton, is another option to explore. Also, check out the
UBC Okanagan Heat teams
competing with other universities in Canada West.
3.
If you want to get your exercise in the fresh Okanagan air, you have lots of choices. The
Campus Community Fitness Loop
is an outdoor exercise circuit with seven different stations. There's also an extensive
network of signed trails
, including the Pine Loop, Snowberry Loop, The Old Pond Trail and Juniper Trail.
4.
FINA Art Gallery
is a great place to see artwork created by UBC students, faculty and visiting artists. Be sure to to take notice of the many public works of art on display across campus.
5.
When I'm at UBC-O, I like to get outside as much as possible. The campus has lots of places where you can refresh your spirit or just catch some sun, such as the Amphitheatre, the Courtyard, or the patio, pond and green space behind the Engineering, Management and Education building. If it's too cold outside, visit the Arts building's atrium – a wonderful, warm indoor space with an outdoor feel.
6.
If you have classes spread out over the day, you can stop by one of the on-campus
Collegia
spaces to study, socialize, or just recharge your batteries.
7.
At the
University Theatre
you can catch wonderful performances by UBC-O groups as well as visiting troupes.
8.
You may notice a lot of four-legged friends at the Okanagan campus. These dogs are part of the
B.A.R.K. program
(Building Academic Retention Through K9s), a dog therapy program run under the direction of Professor John Tyler Binfet. A drop-in session with one of the B.A.R.K. therapy dogs is a great way to de-stress and help with homesickness.
9.
There are plenty of
food options at UBC Okanagan
, including a rotating variety of food trucks you'll find along University Way near the Charles E. Fipke Centre for Innovative Research and The Commons.