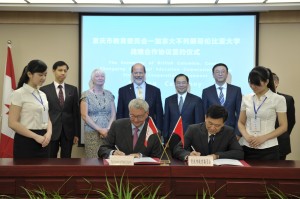 I am pleased to announce that the University of British Columbia has concluded an unprecedented, five-year strategic cooperation agreement with China's Chongqing government, opening doors to increased academic and research collaborations with universities and research institutes.
It is the first time UBC has entered into such a wide-ranging agreement with this level of government in China – the city has provincial government status.
Chongqing is a strategic location within China for western development. This unique agreement builds on UBC's existing relationship with the city and provides tremendous opportunities for our institutions to join forces to share research, knowledge and innovation, which are key drivers in the global economy.
Collaborations under the agreement will focus on urban planning and sustainable development, education, law, public policy and international relations, medicine and life sciences, engineering, management and leadership training, as well as the fine arts.
This agreement as well as a number of understandings signed concurrently between UBC and specific academic institutions in Chongqing herald greater cooperation in research, teaching, curriculum development and training.
The Chongqing agreement is the first initiative under UBC's recently established China Council, which seeks to expand and deepen the university's exchanges with Chinese academic and research institutions.